"Canada is ahead of the game when it comes to beef sustainability," affirms Graeme Finn, a member of the Canadian delegation at the Global Conference on Sustainable Beef held in Ireland on October 9-12, 2018.
"What we're doing here is right on track to keep the public informed. It's good to see progress from the McDonalds' pilot program to getting a cheque from BIX/Cargill for sustainable beef—and most of all, that other countries are looking to us for guidance. I'm pretty proud of where we are right now in the world."
The Global Roundtable for Sustainable Beef (the conference host) is a global initiative that aims to improve the sustainability of the global beef value chain through leadership, science and stakeholder engagement/collaboration. It is the umbrella organization and governing body for initiatives in member countries, which includes Canada (hence our interest in this).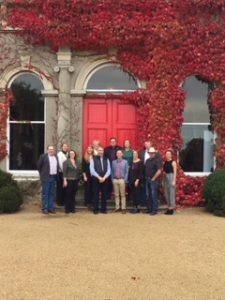 Caption: Canadian representatives at the conference
Of the 245 attendees, Canada had the biggest delegation: 15 people representing organizations as diverse as the Canadian Cattlemen's Association, McDonald's, A&W, BIX, Ducks Unlimited, World Wildlife Fund Canada, and three producers (including Graeme, who also represented the Canadian Roundtable).
On Day 1, Graeme took the Dawn Meats tour. Dawn Meats is one of the largest suppliers of beef into the McDonald's system in Europe at the company's fossil-fuel free (!!!) plant in Waterford. In 2017, the site became the first Irish food manufacturing company to be awarded BITC Ireland's prestigious BWR (Business Working Responsibly) mark.
"Dawn buys all its meat from Verified Sustainable operations," says Graeme. "No common market cattle. McDonalds does the same thing in Canada, so we're aligned with Ireland on that. Cargill and McDonalds are the prime buyers of sustainable beef here. All our own beef goes into that chain, and we get the quarterly cheque."
The tour also stopped at John and Catherine Powers' farm in Waterford where calves are reared and finished as beef cattle for the McDonald's Flagship Farm Program.
"It's all bull meat," says Graeme. "They don't castrate any animals so, obviously, no synthetic hormones. It must be quite boisterous on that farm when the animals are young!"
Days 2 and 3 were in a more traditional conference format. Justin Sherrard, Global Strategist Animal Protein, Rabobank RaboResearch, Food & Agribusiness delivered the keynote address, focusing on leadership and the concept that the customer is always right.
"I didn't totally agree with that," points out Graeme. "How can customers be right if they don't have the correct or the full information—or if they've watched Cowspiracy on Netflix? It makes sense that veggie burgers are trendy in a first-world urban setting but in developing countries, the cheaper option will always be meat. As their standard of living improves, they are moving towards more animal protein."
Graeme presented on the impact of technology on producers and their operations. He believes the BSE crisis of 2003 drove producers to know their costs and to improve their winter management and grazing management—which turned out to be the best thing for the industry as it relates to sustainability.
"We already have traceability," he says. "South Africa doesn't even have RFID tags. The UK and Ireland have passports that follow every animal through the system throughout its life. It's intense! They need to get with the Canadian model."
Other presentations focused on the environmental side of sustainability, reducing emissions through innovative feeding strategies, sustainable beef production on the Canadian prairies and genetic improvement for animals on pasture.
Michael Lee, Chair of Sustainable Livestock Systems at Rothamsted Research, delivered the capstone address focusing on how livestock fit into the environment, not just as meat but also as wool fibre, cosmetics, leather, milk, fertilizer and beasts of burden. All biodegradable. Styrofoam… not so much.
"Attending a conference like this makes us more aware of where the trends are going," says Graeme. "It's important to know what's going on in the world."