Livestock Gentec Performance and Recognition
Awards
In 2020, Livestock Gentec was awarded the Don Matthews Memorial award, presented annually by the CBBC to an organization or individual who exemplifies excellence and commitment in the beef cattle industry. Read more here.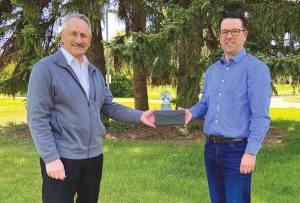 ---
Performance
Outputs
Livestock Gentec is recognized as a global leader in collaborative genomic research. It has a successful track record of bringing together expert teams, securing funding and delivering value to industry.
>$124 million in research funding secured

Proprietary Genomic Dataset for commercial cattle in western Canada

Development and licensing of EnVigour HX ™, the first 'Made in Canada' genomic tool for measuring hybrid vigour

Spinoff and sale of Delta Genomics

Engagement with over 125 global collaborators

115 highly qualified personnel trained with 35 high impact placements in industry
Outcomes
Livestock Gentec aims to bring together collaborative networks to develop, validate and deliver genomic innovations to improve the efficiency, sustainability and profitability of the beef and swine industries.
Improved accuracy of molecular breeding values for hard to measure traits

Improved hybrid vigour in commercial herds

Increased vigour = $160/cow/year over 5 calvings

Development of multi-trait indexes to select feeder sires and replacement heifers in commercial cattle

Increased Feeder Profit Index = $29 increased profit per feeder

On-going validation of using DNA pooling to reduce cost and increase adoption of genomic testing

Improved commercial gilt development and performance