Cambridge, UK 1988. Young post-doc Steve Moore stares out of the window at another rainy English day. In front of him, in the journal Nature, is an advert for a job at CSIRO, Australia's national science agency, in Queensland. The accompanying image shows palm trees….
Steve got the job. Foregoing cancer research and the UK, Steve would remain with cattle for the rest of his career. He spent the next three years at the Rendle Research Laboratory and Belmont Research Station, the premierresearch stationfor the north Australianbeef industry and nicely situated on the aptly-named Tropic of Capricorn. He spent the following nine years in Brisbane, also for CSIRO, researching tropically-adapted animals.
Reorganizations started to feel like a fact of life at CSIRO. Steve no longer saw a future for himself there. Once again, he cracked open Nature, this time seeing an advert for a job in Alberta.
"Canada was spelled out in big letters down the side," Steve remembers. "I thought I should jump before getting pushed."
Steve got the job. In a 180-degree switch from the tropics, he found himself in Edmonton, where the temperature "soars" to -40C in winter. The job was Chair of Beef Genomics and the Alberta Bovine Genomics Program (ABGP), an organization he was to set up and run for 12 years at the University of Alberta.
"I remember going down to the Calgary-Airdrie area to look at yearling bulls with cross-breed producers," says Steve. "We started to walk through the middle of them. I'm sure the guys were testing my mettle. They didn't know that I'd been working with tropical bulls that are 6 ft at the hump. These bulls looked small in comparison. They parted like the Red Sea as we walked through."
During that time, the ABGP enjoyed great support from the Government of Alberta, especially Cornelia Kreplin, and eventually morphed into Livestock Gentec, which broadened its mandate to other livestock industries in Alberta. Hence, Graham Plastow's (a pig expert) appointment as incoming CEO after Steve. While the pig industry is completely integrated, with all sectors cooperating to achieve common goals, the beef industry is quite the opposite, making it very hard to work up and down the value chain. Canada has made significant efforts to change the information flow up and down the value chain, making all sectors better able to meet consumer preferences.
"Establishing Livestock Gentec remains one of the most satisfying parts of my career.," says Steve. "Gentec is now a world-recognized centre for livestock genomics with links to other groups in Canada such as the University of Guelph, and beyond with groups in the USA and Europe. The best part was the students, who came from all over the world. They have since moved on and established their own careers in industry, government and academia in Canada, the USA, Europe, Asia and Africa."
Initially, the position was for three years. Eventually, Steve and his family stayed for 12.By that time, he'd done what he set out to achieve, and he was happy to leave the ABGP/Gentec in Graham Plastow's capable hands while he took on the role of Director, Centre for Animal Science for the Queensland Alliance for Agriculture & Food Innovation. This time, without the assistance of Nature.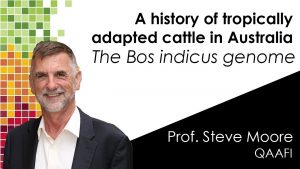 Steve maintains his links to Alberta through research collaborations and as a Board member of Delta Genomics, a not-for-profit spin-off from Livestock Gentec serving the Canadian livestock industry. Steve and Fran's children remain settled in Alberta, resulting in regular commutes across the Pacific.
Seven years later, Steve has once again achieved what he set out to do. This time, though, he decided to retire, although he will maintain his international engagements with the well-deserved new title of Professor Emeritus. And he has other plans.
"We just bought a property on the Gold Coast," he says. "My next job is to tame it back to civilized state. That should keep me busy for a while."