By Teresa Lantz
Every January for the last 14 years, Banff, Alberta plays host to the Banff Pork Seminar (BPS). The Fairmont Banff Springs Conference Centre currently accommodates this event, which brings together a wide array of university students, researchers, industry professionals and producers. This year, over 750 attendees from all over the world took in the sessions, including plenary talks about African Swine Fever, the plant-based alternative protein movement and wild boars in Canada.
The overall program aims to provide practical science with direct applications to the swine industry, ample networking opportunities, and lectures with relevant information for producers, students and researchers. In alignment with this, the BPS runs several competitions within the conference, one of which focuses on the creation and dissemination of new and relevant science by undergraduate and graduate students: the RO Ball Young Scientist award. Students must submit abstracts with their work to a poster competition for evaluation by the BPS awards committee. Four finalists then prepare a 20-minute presentation in addition to a poster to be a part of the 'Innovators' lecture series at BPS. This presentation is judged by a panel of industry professionals and researchers, who elect the top two student contenders to win a cash prize. This year, I was honoured to win second place. First place went to Julia Moroni, one of Gentec-associated researcher Mike Dyck's students.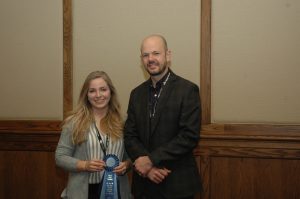 Caption: L-R: Teresa Lantz and Prof. Ben Willing
My poster focused on meat quality, while other topics discussed reproduction, nutrition and behaviour, which offered a well-rounded afternoon of learning. This is standard for BPS, with lectures for all interests, which are repeated (except for the 'Innovators') so participants are not limited on the topics they can learn about. Listeners were engaged in every presentation, confirmed by the significant number of questions fielded. To me, this meant each talk was appropriate for the audience. The scope of knowledge provided significant value and an invaluable experience for a young professional hoping to continue a career in this industry. The connections sparked from this opportunity will, I'm sure, prove vital in the coming years.
The BPS also provides excellent experience for young professionals and students in the generous opportunities to network without feeling the weight and awkwardness that traditional networking opportunities often pose. The BPS is friendly, open and personable—an environment sometimes not felt at conferences, particularly for students who may lack networking experience. By providing multiple, bite-sized time-chunks plus coffee and tea, talking to fellow attendees feels much more natural; particularly when you can reference your poster and presentation and take a quick sip before asking for a card. Finding a common connection or discussing the lecture you just listened to simply feels less intimidating!
One of the most interesting things I noted was the support and encouragement given by colleagues and network acquaintances upon learning of the competition—and from the other three finalists. We all were very happy to be sharing our research and this experience with one another. As finalists, we also volunteered during the event, so we spent significant time together. This camaraderie during competition was refreshing and showed a truth of young professionals; we support one another and are excited for our future and that of our peers as we pursue advancement in the Canadian swine industry.
The experiences and opportunities provided by the BPS for me as a graduate student, particularly with plans to defend my thesis shortly and move into industry, are extremely valuable. The connections made, and ability to show my name on this scale to such a variety of industry professionals, and adding this competition and an award to my CV will undoubtedly help in my eventual job search.
I recommend the BPS to all students in the swine industry and to those interested in the animal agriculture industry. The science is relevant and accessible, and the setting is unmatched! For researchers and industry professionals, this conference provides significant networking opportunities for the next generation of students graduating and an opportunity to gather with some of the prominent voices in the industry. Together, students can learn from the previous year and work on the emerging challenges while enjoying some wonderful mountain views. It is an excellent way to kick off the New Year. I hope to see you there in 2021!
For more information, check out the BPS website.