The BCRC-Hays Chair in Beef Production Systems at UAlberta is a full-time tenure-track appointment in Beef Production Systems, with 25% teaching, 50% research, and 25% service in leadership and extension. The initial vision for the Chair, as outlined by BCRC Chair Matt Bowman, was to capitalize on UAlberta's leadership in both beef genomics [Gentec] and rangeland research [Rangeland Research Institute]. The Chair will complement and connect those programs to improve the whole cow-calf production system.
Gleise da Silva—the inaugural Chair—is using some of her research time on a collaboration with Gentec (specifically, CEO Graham Plastow) funded by Alberta Beef Producers to determine whether heifers with different residual feed intake can be more weather-resilient.
She has also been busy meeting, talking with Alberta's cow/calf producers, and familiarizing herself with the most pressing issues faced by industry. Gleise's own aim (in addition to the Chair's) is to advance Canada's position as a world leader in sustainable beef production.
Gleise has formed a wide breadth of industry relationships, many through the assistance of her colleagues at UAlberta and Gentec who have made a special effort to introduce her to producers. These include the Alberta Beef Industry Conference (June 2022); UAlberta's own Kinsella Field Day (July 2022); the Canadian Beef Industry Conference (August 2022); and Farmfair International (see below).
Some of her leadership/extension time is going towards developing leadership and networking skills, and learning how the Canadian beef industry can advance our global leadership position in beef sustainability by applying/adapting what other countries are doing in terms of sustainability and food security to make the sector more competitive and profitable. This she can accomplish through the BCRC mentorship program, which she recently completed, and now through the Canadian Cattle Young Leaders program, which she just started.
"I've been paired with a mentor," she says. (Anne Wasko, a highly respected cattle market analyst and past chair of the Canadian Roundtable for Sustainable Beef.) "We'll start developing a road map of what I want to learn and be involved with, and she will help me achieve my goals."
In addition to the above local events, Gleise has attended Global Agenda for Sustainable Livestock in Dublin, Ireland in October 2022 with two young leaders from the Canadian Cattle Association. See her summary of the event here.
"During the interactive plenary session led by youth, several topics were discussed around the food system opportunities through sustainable livestock. My topic was how to find opportunities for youth to be involved in livestock, how to attract them to agriculture. Furthermore, as a group, we discussed the challenges to agriculture on every continent in terms of food security, production and sustainability. We visited Teagasc Grange Animal and Grassland research centre, where various methods of reducing livestock methane emissions were being evaluated. It was an excellent opportunity to think about food production on a global scale and understand perspectives, challenges and goals from different countries. This is how networking will help us achieve real solutions."
At Farmfair International in Edmonton in November, she and Gentec associate Clinton Brons met and mingled with an assortment of individuals with a vested interest in the beef industry. One highlight she mentioned was the international reception where she and Clinton sat with members of Alberta's Legislative Assembly. Together, they delivered compelling messages (no turkey, just beef 😊) on the role Canada can play in delivering delicious, nutritious and sustainable food to the world, as well as on the importance of the beef industry within their ridings… both at our table and from the podium. Special thanks to Jackie Armstrong-Homeniuk and Garth Rowswell of the Fort Saskatchewan-Vegreville and the Vermilion-Lloydminster-Wainwright ridings for their reciprocated interest in the important beef industry work being done at UAlberta and Gentec.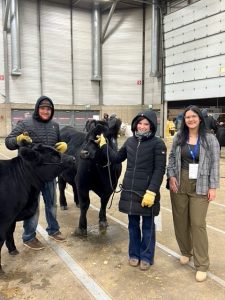 "I've had these wonderful opportunities in just a few months," she says. "Opportunities for good conversations that open your mind to think differently; opportunities to meet interesting people and share experiences and learn from each other. I'll be working with some of the Young Leaders and people I've met throughout my career."
EDITOR'S NOTE: As BCRC-Hays Chair, Gleise was invited to be a panel member at the UAlberta Chancellor's Forum on Food for the Future, focusing on climate, cost and creating food security. Read more about that event here.