Even the title suggests this wasn't going to be easy. "Introducing genomics technologies to 4H participants to promote genetic tools in the Alberta beef industry." And yet, this is the project UAlberta Capstone students Jacqui Gironella, Diego Martinez Mayorga, Jayden Pidsadowski, Leah Trenson and Min Chieh (Ruby) Hsu chose to present—to the surprise of Professor Frank Robinson, who recognized the significant challenge and was a tad apprehensive about their success.
It wasn't so much the first part that was hard: testing about 160 steers belonging to the 4Hers (Gentec did that part, as well as the mentoring). It was getting the information to look understandable, real, relevant—and interesting—in front of the 4Hers and their producer parents.
"These are super-complex topics, and it was hard not to use jargon," says Diego, who comes from a beef/dairy background in Ecuador. "That was a project in itself. So we made factsheets for each steer."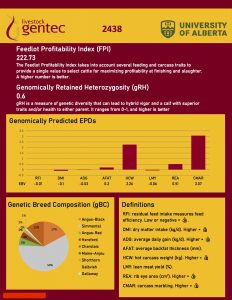 The incentive for working with 4Hers is that they are already from a farming background, sometimes several generations back. The team figured that introducing genomics to the farm through them in a simple, non-invasive way was the recipe for success since they are likely to be the future of beef operations in Alberta. The students found that the main objections came from the adult producers who didn't know what genomics was and what benefits it could offer. Wanting to cover all bases, however, the team also explained in their presentation that genomics is just one piece of the puzzle (albeit a good one) but producers can't ignore nutrition, shelter, good husbandry in general. Genomics works best in combination with all a producer's accumulated experience conducting visual assessmentson conformation, feet, udder and temperament. If you can see for yourself that the animal doesn't measure up—you don't need genomics. Genomics adds value by facilitating the ranking of the animals you otherwise would consider acceptable.
"Habits are difficult to break," says Jacqui, who, unlike Diego, had never seen a large animal until a few years ago. "We thought this was a neat way of approaching the hesitancy towards testing and genetic selection for producers who aren't using it yet. They're more likely to trust information from their kid or grandkid—and we noticed that lots of generations watched our presentation."
---
Enter Paul Franz, son/grandson to ranchers, and now himself a rancher in Grimshaw, Alberta, since 1996 trying to build an F3 and F4 herd. He became involved in the project as the local 4H leader.
"I hope the kids learn about genetic diversity in cows and that they can create crossbreeds to get the ideal animal for their situation, whether it's a feedlot, backgrounding or a cow-calf operation," he says. "They'll get a premium for the calf in the local market."
Paul is already a believer in genetics. As his knowledge grew through his role on the provincial Beef Advisory Committee and associated Carcass Committee, genetics was in the back of his mind. "Just to know where my cows are from, genetically, and their hybrid vigour."
This project was a happy coincidence for him. He used the opportunity to get his whole herd tested.
"If you want to move forward in a crossbred program, you'd want to know what your herd is doing," says Paul. "So research the traits to get more out of your bull. In 3-5 years, those traits will be on your replacement heifer side."
---
Back in the lab, Diego and Jacqui are reeling at the difference between the cloistered halls of academia and the hands-on ranch operation.
"In the classroom, we have great numbers and no confusing variables," says Diego. "We focus on genetics but in the real world, every producer has their own management program so cows with the same potential may end up quite different. I hope that came through in the presentation."
"Clint was really helpful on this," says Jacqui. "He guided us on what producers want and don't want, and made sure we explained everything thoroughly. His perspective from a marketing standpoint was very different and valuable."
For Diego and Jacqui, the project turned out even more fruitful. Both students have summer jobs at Gentec.
"I'll be working with Graham Plastow, researching heat stress in cattle using infrared thermography," says Jacqui. "And with Ed Bork at the Kinsella Ranch, analyzing what the different herds of cattle are eating at pasture there."
"I'll be doing extension, attending conferences, manning booths, preparing presentations and writing some research overviews," says Diego. "It'll be nice to stay inside for the summer for once. I'd like to stay in ag genetics if possible as a genetic consultant… helping producers select for what they need. Wouldn't that be an awesome job to have?"