A significant difference between the commercial and purebred cattle sectors is the lack of technology available to commercial producers to genetically evaluate their animals. The purebred industry has been using Expected Progeny Differences (EPDs) for decades but some of the traits assessed in full-blood cattle aren't as economically applicable to crossbreds.
Gentec is working to increase the accessibility of genomics to commercial cow/calf producers in Western Canada so they can select more suitable breeding stock and increase their profitability. Gentec has developed the largest reference population for Western Canadian crossbred beef cattle, and created two DNA-based selection indexes for commercial cow/calf herds: a feeder profit index (FPI) and a replacement heifer profit index (RHPI). Each index aims to achieve objectives that are significant to feeder progeny and replacement heifer selection. Gentec has ongoing projects to measure these indexes' validity, allowing producers to capitalize on the benefits of genomics for only $15/head—instead of the normal $45. Using a hair sample, the genome is assessed at the SNP level to detect the smallest differences in DNA. The results are called genomic-enhanced EPDs (gEPDs), which are about twice as accurate as regular EPDs.
The FPI aims to improve growth, feed efficiency, carcass value, and net return of feeder calves. The index was created by weighing relevant traits with their economic data, which can help producers detect changes in profits. The traits included in the FPI are post-wean average daily gain, feed intake, metabolic mid-weight, residual feed intake, and six carcass traits. The relationships between various traits were also accounted for, making it easier to improve multiple traits at once. Using the FPI can help produce progeny that perform more efficiently in a feedlot through the selection of better sires and dams.
The goals behind the RHPI are to improve the efficiency, fertility, and longevity of replacement heifers while maintaining or reducing production costs. One way to measure these three pillars is to quantify an animal's genomic breed composition, which is referred to as the hybrid vigour score in the RHPI framework. By compiling the hybrid vigour score and gEPDs from up to nine traits, the RHPI is assigned to each female in the form of a numerical value, which can be compared with results from other females in a group. This is a great additional selection method as it offers a unique snapshot of their genome that can help producers make more informed decisions.
Our mission at the Grey Wooded Forage Association is to promote sustainable forage and livestock management practices. We are very committed to providing information to producers on new technologies to help them achieve their production goals and optimize efficiency. On June 22, GWFA hosted the 'Livestock Roundup 2022', a workshop and field event encompassing new products and solutions for cattle producers. Gentec was a significant contributor in both the workshop and field components. John Basarab and Diego Martinez Mayorga presented to the attendees about the indexes, and conducted a field exercise with the help of Clinton Brons to demonstrate the practical application of the RHPI, courtesy of Grant and Laura Smith. The opportunity to compare the phenotypes of live heifers with their gEPDs and hybrid vigour score was a great demonstration of how genomic assessments can influence decision making. All the heifers but one were black, and their RHPI results told us a lot more about their genetic makeup and potential value as a replacement female than what we could determine just by looking at them.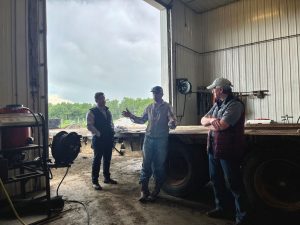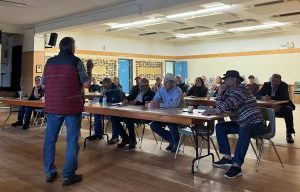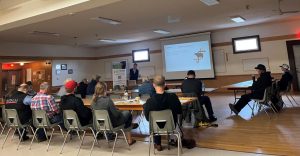 Although he is in the early stages of genomic testing, Grant Smith described the data as "well worth the $15/head to get a better idea of where your herd is at." Getting a closer look at genotypes can help producers decide which animals they want to further invest in.
"I used the most expensive semen on the cows with the highest genomic score," said Smith. "I plan on using it as a secondary selection tool to help increase uniformity. Gentec is committed to giving producers as much information as possible."
The indexes can serve as an indispensable source of data when selecting breeding stock for commercial operations. With the agriculture industry striving for heightened sustainability and efficiency, there is plenty of room in the commercial beef sector for genetic progress. Having the ability to make important economic decisions earlier with the help of pertinent data will help producers save money and resources in a business with tight margins.
Annika Peckham
Grey Wooded Forage Association